Dr. Frederick's Original Gel Toe Separators -- 6 Pieces
for Bunions and Overlapping Toes
Dr. Frederick's Original Gel Toe Separators -- 6 Pieces
for Bunions and Overlapping Toes
Get Free US Shipping Free US shipping on orders over $25! Most orders ship within 1 business day.
Get Back To It Guarantee Your results are our top priority. It's part of who we are as physicians. So if your purchase doesn't help you get back to doing what you love in 30 days or less, we'll find something that will or we'll give you your money back. That's our promise to help you Get Back to the Original You.
Subscribe & Save Save 10-20% and get free shipping FOREVER on all subscription orders in the US!
6 PIECES INCLUDED: We know these little toe separators are easy to misplace, so we give you a handful to lose at your leisure. That's 3 pairs of toe spacers that are all the same size. This isn't a variety pack, because when you find the right size for you, you don't need all the other sizes.
TAKE A STEP TOWARDS LESS PAIN - Dealing with pain associated with bunions is never any fun, but our remarkable TPE Gel Toe Spreaders help deliver true, untouchable relief by spreading the toe, keeping unwanted pain and friction at bay! Whether you're wearing shoes or not, our relief is what you're looking for!
CUSTOMIZED COMFORT: Choose from 3 available sizes our get all three for extra-customized comfort.
EASY WASH: Our gel is easy clean, and always at the ready for you. With just a little soap and water, quickly and easily wash our toe separator by hand, and keep your kit sanitary and ready for the next use! By offering better materials with higher convenience, we make bunion care quick, easy, and accessible!
PLEDGE TO ALWAYS BE ETHICAL: The team at 'Dr. Frederick's Original' is headed by medical professionals and will never make unfounded claims about the benefits of our products. Bunion pads & spacers are designed for pain relief both before and after surgery. Some competitors offer a 'cure', but correction of bunions with these and similar devices is not typical and usually requires corrective bunion surgery.
Customer Reviews
04/03/2020
Richard W.
United States
I recommend this product
Work well
I tried several styles. Dr Frederick's worked best. I wear size 12 shoes but prefer the small size
01/20/2020
Anonymous
United States
I recommend this product
very satisfied with the separators
I recently cancelled bunion surgery in order to try wearing orthotics and Dr. Frederick's gel toe seperators. They are a great product, stabilize my foot and cut down my pain. So glad I tried them. Will buy again.
09/16/2019
Anonymous
United States
I recommend this product
my experience
I bought all three sizes and although comfortable for about an hour they make the first toe skin on both feet hurt so that I had to return to my original techique
08/30/2019
Anonymous
United States
I recommend this product
Works for me
Small, easy to slip on. Negative...easy to lose or misplace.
I recommend this product
Great!
I bought these because the ones I used to buy were out of stock, I had corrective surgery on my feet years ago and use the toe spacers for comfort. I'm so glad I bought these, they are far better quality than what I had been buying and won't be going back, DR Fredericks is all I will use from now on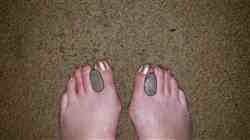 Liquid error: Error in tag 'section' - 'product-recommandations' is not a valid section type