Dr. Frederick's Original Peel & Stick Arch Support Gel Pads -- 6 Pieces
for Arch Pain and High Arches
Dr. Frederick's Original Peel & Stick Arch Support Gel Pads -- 6 Pieces
for Arch Pain and High Arches
Get Free US Shipping Free US shipping on orders over $25! Most orders ship within 1 business day.
Get Back To It Guarantee Your results are our top priority. It's part of who we are as physicians. So if your purchase doesn't help you get back to doing what you love in 30 days or less, we'll find something that will or we'll give you your money back. That's our promise to help you Get Back to the Original You.
Subscribe & Save Save 10-20% and get free shipping FOREVER on all subscription orders in the US!
6 PEEL & STICK ARCH GELS: Our high arch supports are reusable and easy-to-clean. For the best results, put one pair in your favorite shoes and another in your sneakers. Wearing the gel pads frequently is the key to PAIN ALLEVIATION!
DESIGNED FOR AN ACTIVE LIFESTYLE: Your high arches may be preventing you from living life to the fullest. Order our gel pads TODAY so you can get back to your busy life: running weekend errands, mingling at work functions, playing in the backyard, raking leaves, going on long walks, and more!
PEEL & STICK TO FIND THE PERFECT POSITION: Our peel-and-stick gel pads are designed to provide advanced cushioning support for men and women. The comfortable and durable gel inserts will improve your stride and daily comfort.
TAKE CONTROL OF YOUR PAIN: Don't suffer from high-arch pain for another minute! Regain your original stride with our peel & stick foot arch support gel pads. Click Add to Cart now to take control of your health and fitness.
DEVELOPED BY DOCTORS: You can be sure that these high arch supports -- or any products that you order from us -- were carefully developed with your specific clinical issue in mind.
Customer Reviews
02/18/2020
Anonymous
United States
I recommend this product
LOVE THIS PRODUCT!!
I bought these to help with achy feet after wearing heels all day. These are like magic. I can wear heels all day when I have these on, and my feet don't get tired at all. I get a gentle massage with Every step I take.
01/12/2020
Jennifer P.
United States
I recommend this product
Hip Pain Gone
Since the day I started wearing these in my shoes, my hip pain has disappeared. So has the lower back pain associated with it. It's all connected! I always buy high quality shoes, but my feet are an awkward size and the arches never hit in the right spot. These supports fix that. And, I can move them between pairs of shoes so that I can wear any pair I want. Thank you!!
Get happy!
I was cranky all day at work wearing these incredible looking loafers I gifted myself. Although the shoes look amazing they have absolutely no arch support, leaving my feet in excruciating pain by the end of the day. I found Dr.Fredericks arch support gel pads and decided to give them a try hoping to relive the pain. They worked amazingly and I decided to put them in all of my work shoes. My feet are no longer in pain after work. The pads are extremely comfortable and give me the perfect amount of arch support. I would highly to anyone looking to relive arch pain or simply to give your feet a treat!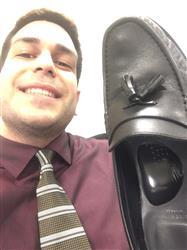 02/19/2019

Dr. Frederick's Original

Thanks for sharing, Alvaro! So happy it worked for you. :) Love the picture too! Make sure you join our rewards program, so you can get your points for posting a picture! https://drfredericksoriginal.com/#smile-home

Liquid error: Error in tag 'section' - 'product-recommandations' is not a valid section type